Home
FlexPoser is an addon for Garry's Mod that allows players to directly control their character's facial expression and head rotation by posing in front of a webcam. Expressions are synchronized across clients in real-time. FlexPoser works with Garry's Mod v13.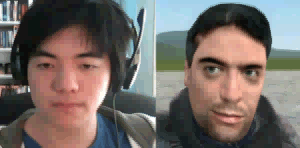 For server admins:
Head to the Download page for instructions on how to enable FlexPoser on your Garry's Mod server via Steam Workshop. This addon does not require any server-side dll's. It can be combined with any other addon and game mode. The addon does not impose any restrictions on players joining your server: participation is optional per player and is turned off by default for players new to FlexPoser.
For players:
FlexPoser can only be used on servers that have FlexPoser enabled. Furthermore, to start tracking your facial expression you have to download a binary module (dll file). The module is used to communicate with your webcam and to perform the face tracking. Please follow the instructions on the Download page. Only trust download links for the binary module listed on this site.
For more information about the addon, check the Frequently Asked Questions.
For demo videos check out the Gallery.
About FlexPoser
FlexPoser is part of my graduation project for a master's degree in Game and Media Technology at Utrecht University, the Netherlands. I chose to explore the idea of webcam controlled facial animation, because to me it makes a lot of sense to have this feature in modern multiplayer games, especially games with a big social aspect like MMORPGs. I chose to test the idea out in Garry's Mod, because of it's an easily accessible modding platform with built-in facial animation support.

Through FlexPoser, I want to make a point to both gamers and game companies that expressing yourself through your game character is fun, it adds a lot to the multiplayer gaming experience and you don't need expensive webcams to get it to work. I hope you enjoy this addon! -ZK